Dies ist eine alte Version des Dokuments!
---
---

---
AUTHOR: Westone Co. / SEGA RELEASE: 1988 TYP: Jump & Run SPIELER: 1 LEVEL: 12 SPRACHE: Englisch Partnumber: MK-7007-50 EAN: 4974365634070 WERT: 25 Euro
---
Der Wunderknabe ist zurück! Dieses Mal meint er es aber Ernst. Keine niedlichen Puppen, Früchte oder Milch mehr. Jetzt geht es um Schwerter, Rüstungen, Schilder, Labyrinthe und feuerspeiende Drachen. Helfen Sie dem Wunderknaben durch 12 gefährliche, mit Ungeheuern gefüllte Etappen eines herausfordernden Abenteuers!
Wonder Boy is back! But this time he's playing for keeps. No more cute dolls, fruit or milk. Now it's swords, armour, shields, labyrinths and fire breathing dragons. Help Wonder Boy through 12 perilous, monster filled levels of challenging adventure.
---
-
-
Extra Gold
Press Pause 73 times to gain 45 gold pieces. Alternately, you can press 1 or 2 on controller 2 instead of the pause button.
Damit wir uns nicht falsch verstehen: Wonderboy in Monsterland ist ein wirklich gutes Master System Spiel. Der Schwierigkeitsgrad ist angenehm, die Level sind abwechslungsreich, durch die Rollenspielelemente kommt frischer Wind in das Gameplay. Wirklich alles super…! Wenn es nur nicht diese schlimmen Patzer im Spieldesign gäbe, die einem im zwölften Level regelmäßig in den Wahnsinn treiben. Wer sich allerdings die Labyrinthkarte im Internet besorgt, wird ein gutes Wonderboy erleben und jede Menge Spaß haben. - www.nexgam.de
Ah Wonder Boy. My first real Master System game. Your creepy and almost scary looking box art holds a special place in my heart now. I both hate and love you. Seanius raves about this game so it was only natural that it be the first MS game I pick up. […] While not the best in the series, I doubt it can be said it's the worst like a comment i saw on some forum. Some have said its the "black sheep" of the series, ala Zelda 2 and Simon's Quest; but like them it's still a fun game in itself. Throughout the challenge and frustration, i still had lots of fun. It's rare I go through a game that many times to beat it, and Wonder Boy is one of those few. - www.smstributes.co.uk
Eleven years have gone by since Tom-Tom rescued his girlfriend Tanya from the clutches of the evil King. Word of Tom-Tom's dangerous adventure soon spread throughout Wonder Land. The people were very proud of him and gave Tom-Tom the highest honor of all - the legendary name of Wonder Boy. With the evil King defeated, Wonder Land returned to its peaceful state, and for over one decade, the kingdom was a paradise, and everything and everyone lived happily together. Eventually, the peace was broken when a ferocious fire-breathing dragon appeared out of nowhere and took over Wonder Land with an army of evil, monsterous henchmen, causing Wonder Land was immediately thrown into utter chaos. Defenseless that they were, the people were quickly taken over and the tranquil and serene kingdom was transformed into a land of demons and devils. Wonder Land was now a Monster Land. Tom-Tom was summoned to set out on a journey, destroy this dragon, and restore peace once again. Tom-Tom is Wonder Land's last hope. There are twelve locations in which Tom-Tom must venture through, including (but not limited to): the city of Wonder Land, Valley of Peace, The Coastal Town of Baraboro, The Mam Desert, and Pororo Islands. During his journey, he must defeat monsters with the sword that he got at the beginning of his adventure. These monsters will leave either gold coins or bags of cash, which he can use to buy better weapons, shields, armors, and boots. At the end of each location, there is usually a boss that Tom-Tom must defeat in order to obtain a gold key that will unlock the exit gate, as well as plenty of gold coins or bags of cash. If he touches any enemies, or is shot at, he will lose health. During his travels, Tom-Tom must take note of the hourglass; if the hourglass display sands at the bottom, he must get another one that appears out of nowhere, or he'll also lose health. There are two ways in which he can restore it. He can either go into bars to have a drink that will restore it and get a hint about what lies ahead as well, or go into hospitals and heal himself to restore the lost health. - www.Mobygames.com
---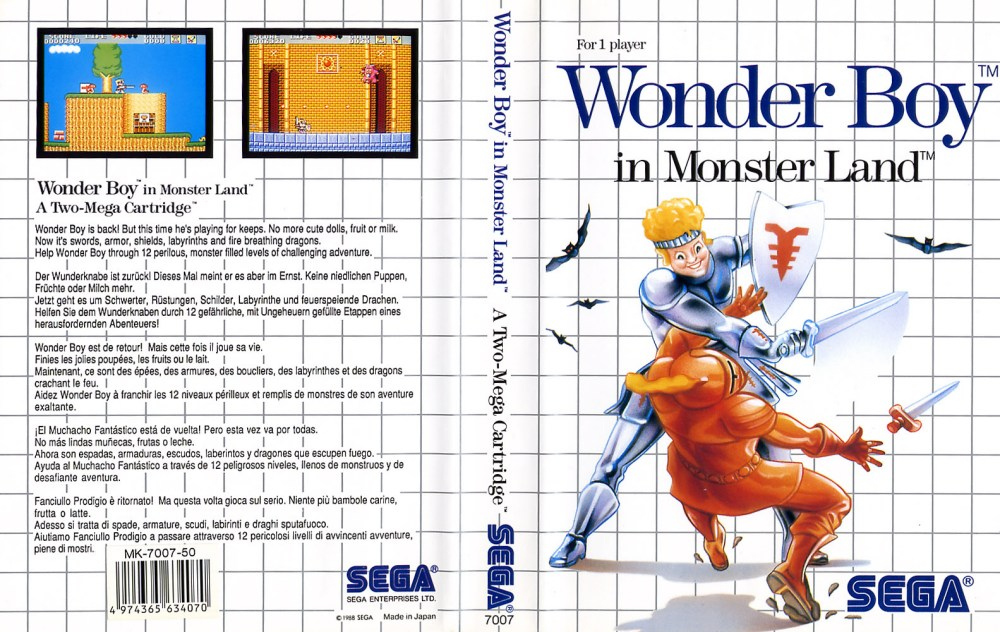 ---