SEGA - die Webadressen:

Hier findet Ihr Links zu weiteren Seiten, die sich mit dem Thema SEGA beschäftigen. Linkvorschläge nehme ich natürlich jederzeit gerne entgeben. Bedenkt aber bitte, dass die Seiten schon ein gewisses Maß an Pop-Up freiem Inhalt bieten und sich hauptsächlich mit dem Master System, Mega Drive, Mega-CD, Saturn oder Dreamcast beschäftigen sollten.




OCRemix.org - Unofficial Game Music Arrangement Community




DigitPress.com - The Video Game Database




SEGA-Network.de - Das Informationsportal rund um SEGA´s Konsolen und Spiele




Sega-Mega-CD-Library.co.uk - The PAL Mega-CD Library



The32XMemorial.com - dedicated to the memory and preservation of the Sega 32x




Sega-Universe.de - Das Online-Portal für SEGA-Spiele




SEGAStuff.de - SEGA Stuff von damals, heute und morgen




Sega-Oldies.de - Tests und Tips zu MD, MCD, 32X & MS Spielen




Spindash.de - Fanpage zu Segas Maskottchen "Sonic the Hedgehog"




Kultboy.com - Die Kultseite über die alten Spiele Magazine!




Kultpower.de - Die Powerplay und ASM Fan-Site




Classic-Zone.de - Alles über Konsolen und Videospiele der 8 und 16 Bit Ära




The Green Hill Zone - A really freaking BIG worthless Sonic fansite



GenesisProject-Online.com - Test Center & Home of the Official Instruction Manuals




SEGAGAGADomain.com - Japanese releases for the Saturn, MD, DC and the Mega-CD




SEGA-Club.com - Historik, Systeme, Reviews, News, Media, Archiv, Downloads uvm.




SEGABase.org - The TV Guide for Sega's videogame consoles




Project2612.org - Your one and only source for Sega Mega Drive Soundtracks




Come for the games, stay for the memories.




Historical facts, data and knowledge to "Sega 8-bit" systems




Sega CD Universe - Dedicated to the Sega CD




RadioSEGA.net - Radio, Soundtrack Downloads and more




ShiningForceCentral.com - your Shining Encyclopedia



Sonic Retro - the Sonic scene's GFDL input and output wiki resource




Retrovideogames.net .::. Spieletests, Hardware Ecke, Spielspaßgurken & mehr!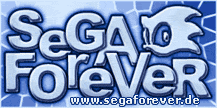 SegaForever .::. Die neue Sega-Fanpage




MegaDrive-moments - To praise the SEGA Mega Drive




Der Sega-Ages.de Banner - http://www.good-old-times.com/sega-ages.gif